How to Register
The Miller Boat Line
5K at Put-In-Bay®
Please come back to link —
Registration hasn't started yet!
PACKET PICKUP/LATE REGISTRATION
Boathouse Bar & Grill – Race Headquarters
218 Hartford, Put-in-Bay, OH 43456
Friday, Sept. 14, 2018 • 5-8 p.m. Saturday, Sept. 15, 2018 • 8 a.m.
TIME
8:00 A.M.: Registration opens
9:15 A.M.: 1 Mile Family Fun Walk starts
9:30 A.M.: 5K Run starts
 COURSE
Scenic waterfront race course
COST
Pre-Registration: $19.00/person
(on or before Wednesday, Sept. 12th via mail)
Late Registration: $28.00/person
(after Weds. Sept. 12th)
Discounted Family Rate*: $16.00/person
(*Offer valid only by mail and entries must be received by September 12th.
More than one person living at the same address can qualify for the family discount.
Submit all forms in one envelope. One form per person.)
(RAIN OR SHINE)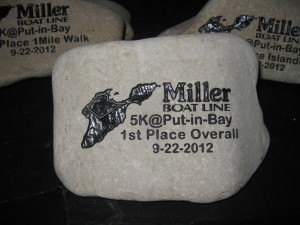 VERY UNIQUE AWARDS
Engraved Put-in-Bay beach rocks (one per winner) awarded:
Overall male and female for 5K and 1 Mile
Top 5K male and female Put-in-Bay residents
Top two 5K male and female runners in each age division
AGE DIVISIONS
10 and under, 11-15, 16-19, 20-24, 25-29, 30-34, 35-39,
40-44, 45-49, 50-54, 55-59, 60 and over
GIVEAWAYS
Artistic designed unique long sleeve shirts to all pre-registered & while supplies last on race day
Bottled water & fresh fruit
Win a free door prize after the race – Don't miss it!